Is it pivotal to adhere to the latest web design trends? Are these trends beneficial for your brand's progress? Or could they inadvertently lead to its downfall? These questions frequently pique the curiosity of business owners, entrepreneurs and web designers, whenever a new web design trend emerges in the market. The decision to follow or ignore these trends could potentially shape the future of many businesses.
According to a study by Adobe, almost 38% of visitors will stop engaging on a website if the layout is unattractive. Meanwhile, Sweor states that it takes only 0.05 seconds for users to form an opinion about a website, which invariably influences their decision on whether to stay or leave. These stats emphasize the gravity of effective web design. Consequently, adapting to the latest trends could be a viable solution to boost user engagement, enhance website aesthetics and maximize user retention.
In this article, you will learn about the importance and implications of adhering to the recent web design trends. It will guide you through the opportunities and challenges of implementing these trends while illustrating real-life case studies of businesses that have successfully adopted or unfortunately rejected the new trends.
To conclude, the necessity of adopting new web design trends is often an area of concern that requires a thorough understanding and careful decision-making. By diving into this article, you'll be well-equipped to make an informed decision that represents the best interest of your business.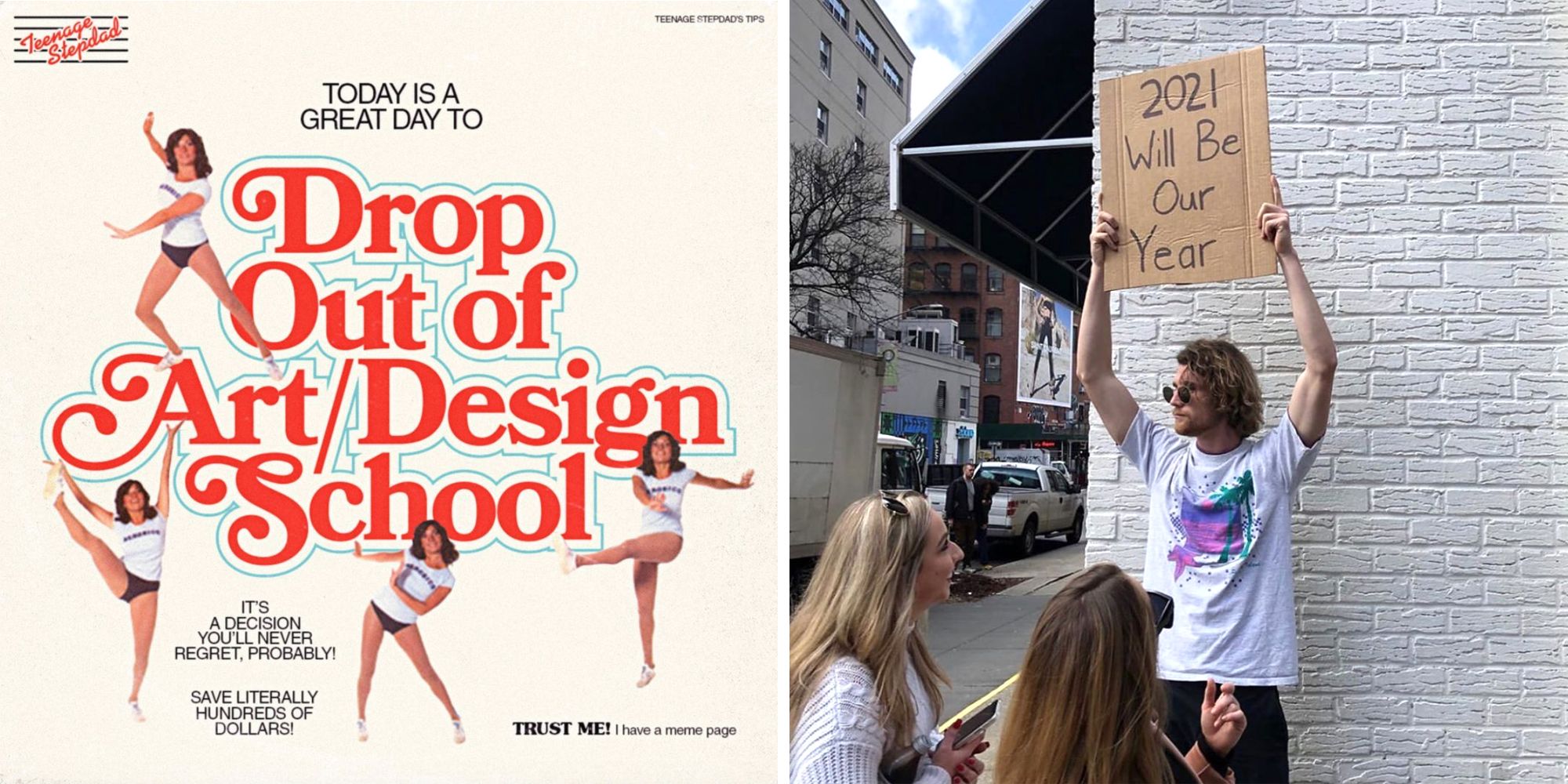 Understanding Basic Definitions in New Web Design Trends
New Web Design Trend refers to the latest methods, tools, and practices employed in creating and improving websites' aesthetic and functional aspects. These trends can influence many aspects like the layout, color scheme, typography, user interface, and user experience on a website.

Following a Web Design Trend means adopting and incorporating these latest techniques in your website's design and development process. This can be a way to ensure your website's relevance, appeal, and efficiency in the current digital landscape. However, it is crucial to consider if these trends align with your website's purpose, target audience, and brand identity.
Jumping on the Bandwagon: Unraveling Why Following the New Web Design Trend is a Must
Understanding the New Web Design Trend
With the exponential evolution of technology, businesses and creative agencies are continually rolling out new web design trends. Undeniably, trend-driven design can give your website a modern, cutting-edge feel. However, it's crucial to understand these trends' implications before leaping headfirst into them. The latest web design trend in question involves the use of bold visuals, innovative typography, and a shift towards minimalism, affecting the user experience positively or negatively.
There is an unwritten rule in the digital landscape that states 'A website's design directly influences its traffic and user engagement.' This means a slick, up-to-date website can significantly enhance your business's digital presence. For instance, bold colours and graphics can attract users' attention, while a shift towards minimalism can improve your website's navigation by decluttering the interface.
Examining the Pros and Cons
However, when following a new web design trend, it's good to not only understand the potential benefit but also be aware of the possible pitfalls. To help you get a balanced perspective, here's a list of pros and cons of adopting new web design trends:
Pros:

Enables you to modernize your web presence, possibly gaining a competitive edge
Can increase visitor engagement by offering a fresh, visually appealing interface
Potentially improves your website's usability with a leaner, more intuitive design

Cons:

Excessive use of bold graphics and innovative typography can distract users from your website's core content
Reconstructing your website design based on trends may become costly if the trends change frequently
It may inadvertently isolate users who prefer traditional or familiar interfaces, impacting your overall user count
Smartly Adapting New Web Design Trend
While it's important to be in the know about the latest trends, it's equally crucial to pragmatically apply them to your web design. Simply hopping on to the trend isn't wise. Instead, you must analyze if the change aligns with your business objectives, audience preference, and brand identity. That said, trends can provide valuable insights into user preferences and sector norms, a fact that can aid in reorienting your online strategy. Following web design trends smartly, rather than blindly, can be the key to maintaining your website relevant and engaging while avoiding any potential traps.
Is the Latest Web Design Trend Truly Valuable or Just Hype?
Indeed, the rise of 'New Web Design Trend' may seem like just another contemporary hype in the digital world. However, beyond its glittering facade, what's its actual essence? It is a growing proclivity towards conceptual simplicity, user-centeredness and aesthetically appealing designs that prioritize utility over unnecessary visual complexities. This trend aims to seamlessly merge design and functionality, offering an immersive user experience. It underlines the importance of the contemporary design principle, 'Less is More', advocating for minimalistic design elements that are effective and functional.
Understanding the Core Issues
The fundamental issue being addressed here concerns the ongoing battle between style and substance. Primitive designs were all about visually appealing elements, often compromising the practical functionalities and user experience. This created websites that were visually appealing but lacked practical efficacy, leading to decreased user engagement and low conversion rates. Utilizing the 'New Web Design Trend' addresses this issue by emphasizing the importance of design that delivers a smooth user experience, setting a balance between visual appeal and functionality. Research supports that adoption of such practices has led to increased user engagement and higher conversion rate, thereby implying that utility driven web design is not just a buzzword, but a proven strategy, with verified effective impact.
Successful Incorporation of New Web Design Trend
To further anchor the potential of this trend, consider companies like Apple and Google, who have seamlessly adopted this trend into their web design practices. Apple's website embodies the philosophy of 'simplicity is the ultimate sophistication.' It has a minimalistic design, focusing on easy navigation and an effortless user interface, further embellishing it with high-quality images and easy to understand content. Google, on the other hand, has been able to maintain an uncluttered and straightforward interface since its inception. Despite being a portal to the largest database in the world, Google's design is the epitome of simplicity and practicality, demonstrating that it's possible to maintain a simple yet effective design while handling massive information and functionality. Their successes validate the inherent values of the 'New Web Design Trend' and resonate with why it has become indispensable in the modern digital landscape.
Debunking Myths: Is the New Web Design Trend Truly Worth Your Time and Effort?
Is The Latest Web Design Trend Really Worth Your Time?
Modern web design is a constantly changing milieu where styles, interfaces, and technologies intermingle to create a unique user experience. Adapting to these changes and implementing new trends is often touted as the key to staying relevant and competitive in an ever-evolving digital landscape. But is this latest web design trend really worth investing your time and resources?
To answer this, we first need to understand that not all web design trends are inherently beneficial to all businesses. Some trends, while visually appealing or technologically innovative, may not necessarily improve your website's performance or help achieve your business goals. For some businesses, the latest trends can even have adverse effects, such as compromising usability, slowing site speed, or presenting challenges for SEO.
The Hidden Pitfalls of the New Trends
The main pitfall of adopting the latest web design trends without proper consideration is that it can distract from the core functionality and purpose of your website. It's undeniable that certain look and feel may attract more attention, but if the site's usability suffers, or its message gets obscured as a result, then this could lead to a higher bounce rate and even potential sales loss. It's critical to remember that an effective website needs to be more than just visually appealing – it should be useful, user-friendly, and aligned with your business objectives.
Another issue lies in the adoption of advanced technology or complex design elements that require significant technical expertise. Implementing such trends can not only be costly but also risky if not executed correctly. A poorly implemented design trend can cause technical issues, negatively impact your site's performance and even alienate your target audience.
Successful Strategies in Utilizing Web Design Trends
Despite the potential pitfalls, there are ways to productively utilize web design trends to your advantage. The key lies in balancing between staying current and maintaining your website's functionality and user-friendliness. Brands, such as Apple and Airbnb, for instance, have effectively adopted trendy but minimalistic designs that are not only aesthetically pleasing but also highly functional.
Observing how successful companies handle web design changes is helpful, but it's crucial to understand that each business has unique needs. Design choices should revolve around the characteristics of your target audience, your brand identity, and your specific goals. An avant-garde, design-heavy style might work for a creative agency but could be off-putting for a financial consultancy firm.
Remember that design trends are tools — analyzing their potential advantages and understanding their limitations will help you harness their power effectively. Be open to change and innovation, but always keep your business goals and users in mind.
Conclusion
Does keeping up to pace with the latest web design trends guarantee you a successful website? One might question whether the high investment of time, energy, and resources is warranted. This might be particularly valid if your current web design is functioning optimally and you are satisfied with its performance. However, it must be noted that innovation is the lifeblood of the digital space. Hence, embracing new trends can be an opportunity to display your brand's forward-thinking nature, differentiate yourself from competitors, and deliver value to your users in ways they hadn't yet conceived.
Hope you found this article insightful. If you are hungry for more thought-provoking content like this, we would love for you to become a part of our online community. By following our blog, you would gain access to premier information content by seasoned experts written to keep you informed of the newest knowledge areas. We assure you that our blog is a fountain of reliable updates designed to sharpen your competitive edge and holistically navigate the digital space.
Furthermore, stay plugged in for our upcoming releases. Our team of writers is burning the midnight oil to ensure we continue delivering top-notch, relevant content for your consumption. Whatever it is you are curious about, let your anticipation rise. We've got you covered! Prepare to be startled as we unveil new trends, innovations, insights, from the vast world of web design and beyond. So why wait? Subscribe to our blog today and set yourself up for a wealth of knowledge that's only a click away!
F.A.Q.
1. What is the new web design trend?
Web design trends change every year and they often involve new technologies and aesthetic preferences. The current trend could involve anything from a new type of layout, innovative interactive features, to even a specific color scheme.
2. Why should I consider following the new web design trend?
Following the latest web design trend may make your website look fresh and modern, potentially improving users' perceptions of your website or brand. Also, these trends often incorporate new technology that may improve the user experience.
3. Are there any risks with following the new web design trend?
Yes, blindly following trends without understanding whether they fit your brand's identity and your site's functionality can lead to detrimental effects. Also, trends fade with time, and you may need to update your design more frequently to stay current.
4. How can I implement the new web design trend on my website?
Web design trends can be implemented through a full redesign or by incorporating individual elements of the trend into your existing design. You may need some knowledge of web development or the assistance of a professional web designer.
5. What if the new trend doesn't fit the existing design or branding of my site?
You should never force a design trend that doesn't align with your branding or functionality. Instead, you could consider elements of the trend that could subtly be incorporated into your current design while maintaining your brand identity.